One of the most popular event that course every 3 May and is known of all people as the party of "Tri da Cruci". The oder event is the "Processione della Madonna dell'Isola" this is a religion background , is a popular tradition that the people of tropea are attached and is more suggestive to view because the event doing on a board of boat. The manifestation more important naturally is called " Estate Tropeana" and consist in films show and concert varied, folkloristic spectacle, ect...
Procession Madonna dell' Isola
The tradictional Assunta's feast religion recurrence of the islend is a interest reason for the town and every year attract more more people that caming for to be present at the suggestive procession on the sea. The event start at 17.30 in sqare in front of the church with the Madonna that it takes on arm along the steps until the beach "du mari picculu" where she put on boat and start the travel whit dozen the oder small boat decorate, sailng up the coast until to Zambrone and then invert the rout and going to capo vaticano along the way there are by the hundred believers arrives on the beaches to say goodbay . Throuth evening starts the journey to return where we are carry away, is the case to say, it gives infinity emotions for the event strengthen of the scenary almost irreal created of the sun that rise.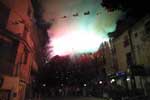 In this occasion, where all the square is through of the frenzy unusual due preparations, to commemorate the Santa Croce's invention, that is reconnect at the time that at the square start risered a little temple with three cross. The recurrence to get on the our days is full of the pagan rites and Christian , of simbol and significances. In epochs varied during the last ages this territory was under the Turkish and Saracen's domination, that they goes round for the road of the town on camels back scattering terror between popolation. But there was many occasions where the people of Tropea won against Turkish getting of and burning ours boats ( we mention the Lepanto's battle where the Tropean's boats will contribute in decisive mode at the victory Christian fleet). For to celebrate this events the people preparing outline of the boats full of fireworks which are hung along the entire wing off and then are given their fire a fireworks display of lights, of colors and barrels. Having continued the festivities with traditional folk games, the festival ends tonight with the boys taunted the ancient enemy, building a silhouette of a camel is also packed with fireworks and the pace of " caricatumbula" drums accompany the dance of "camiuzzu i focu" dancing, shoot and eventually dying.