new excursions to taormina 200

9
Tropea 's Travel Agency Ma&Ma by Maury organize a daily trips to the city rich of history and art castles and museums such as Taormina, famous for its Byzantine mosaics.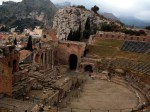 Excursion in Taormina Tropea
From the port of Tropea 07.45 to Taormina by boat with air conditioning. Skirting Capo Vaticano, the Costa Viola, Port of Gioia Tauro, Monte S. Elias, Bagnara, Scylla and Charybdis, walk through, admiring the 'incredible and beautiful Straits of Messina, Madonna, going towards the second morning we will arrive in Taormina Giardini Naxos.Sbarco and transfer by bus to Taormina, visit the beautiful city of fame internationally. Guided tour of the Greek theater dating from the third century. BC, the Palace Corvaia and l 'Odeon. Stop for lunch optional. We recommend a visit to the Botanical Gardens.
Ore 15.45 bus transfer to Giardini Naxos, boarding Motonave and return to Tropea with arrival at 19.00 approximately.
Prices: Adults € 60, 00 - Boys 3 / 12 years € 30.00

Daily mini-cruises to the Aeolian Islands
Mini cruises from the port of Tropea in the''beautiful archipelago of the Aeolian Islands is located in the southern Tyrrhenian Sea north of Sicily. Consists of 10 inter-island and islets, but only seven are inhabited: Lipari, Salina, Vulcano, Alicudi, Filicudi Panarea, Stromboli.
web page: Aeolian Islands Cruises

Download 's route